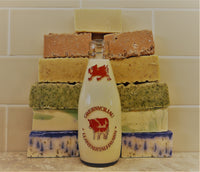 Just Moo Soaps are made with milk fresh from our own herd of freerange cows at Gwern Y Ciliau Farm, Betws yn Rhos, North Wales.
They are 100% Natural and made in small batches on our farm, they are Palm Oil Free, and contain no SLS, Parebens or artificial ingredients. They will not dry your skin like commercial / cosmetic soaps can.
Mae sebonau 'Just Moo' wedi eu gwneud gyda llefrith ffres ein gwartheg oddi ar ein fferm yn Betws-yn-Rhos, Gogledd Cymru.
Mae'r cynhwysion yn hollol naturiol; dim Olew Palm, dim SLS, dim parabens nac unrhyw cynhwysion artiffisial. Ni wnaiff ein sebon sychu eich croen fel y gall rhai sebonau masnachol. Mae'r sebon yn cael ei gynhyrchu mewn sypiau bychain.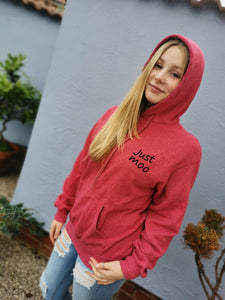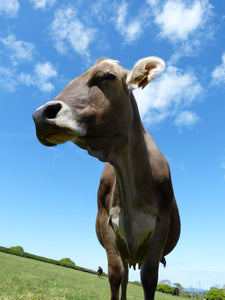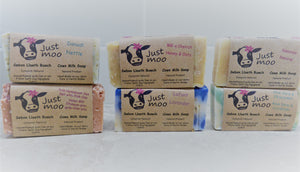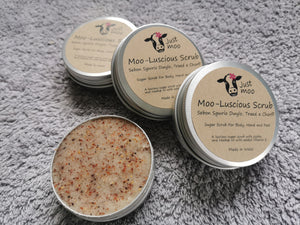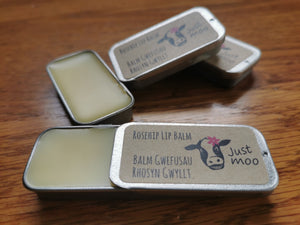 Truly indulgent! Having tried every variety I cannot fault these soaps! They are gentle on the skin, and yet leave skin soft and moisturised. Family friendly- we will not go back to handwash in our house!!

Bethan Marie Barclay
I love these soaps. I've tried the oats and the aloe so far and I'm really looking forward to trying more. They smell absolutely fantastic. I also use them as shampoo and they make my hair fantastically soft and lather much better than other soaps I've tried on my hair. I'd definitely recommend them

Rhiannon Morgan
I absolutely Love Just Moo. My friend and neighbour introduced me to the wonders of this super gorgeous soap and I'm forever grateful. I've always had sensitive and combination skin which makes it difficult to find something that covers all bases.. But this really does! Currently using aloe and cucumber and loving my skin. Also during this lockdown all of our hands have been so dry and sore... Thanks to Just Moo our hands are lovely smooth and softThe fact that the milk comes from the cows on your home farm makes me so happy. Support small and local business... BUY THIS SOAP!!!!!

Ceri Johnson